CarShare Vermont
brand
/
web
/
art direction
CarShare VT is a non-profit carsharing platform based in the Burlington area. I refreshed their brand identity and redesigned their marketing website to be playful, responsive, and lightning-fast.
---
My Role
Art Direction
Product Design
Brand Design
Copy & Strategy
Tad Cooke
Product Strategy
Jackson Latka
Illustration
Viscaya Wagner
Development
Michael Hellein
The Problem

Car ownership is expensive, and most cars spend 90% of their lives parked. CarShare Vermont provides an environmentally-friendly way to save money and get around without owning a car (or additional cars).

Burlington residents who use CarShare love it, but in order to increase new membership we helped CarShare Vermont distill their messaging ("How does it work?") and create a more frictionless way for new folks to get started.








Step 1

Keep the same familiar face


CSVT's well-known dot icon can be seen all over Burlington, so we wanted to keep things recognizeable. I updated the colors and the typography but kept the same, discernible logomark.

The new direction is familiar — so any current brand materials stay relevant — but it provides a new foundation for illustration, voice, and new collateral going forward.

Step 2

Make it usable for the whole team


CSVT is a non-profit, and they like to save money and time by creating some of their own communications.

I chose Poppins for the CarShare font-family, it's a friendly and accessible geometric sans-serif. By providing the team with a Google font and some base styles, it's easy for everyone to stay on brand for things like letters or flyers, which go out frequently to donors and board members.
Illustrations by Viscaya Wagner

Step 3

Make it Vermont-y


CarShare VT is deeply rooted in the local community. I worked with Viscaya Wagner, providing art direction on a series of illustrations that resonate with the folks who live here. We used a limited palette to create recognizeable scenes from Burlington's downtown and surrounding areas.
Maps created and customized with Mapbox

Step 4
Make it easier to find a car

Perviously, CSVT didn't have many good map resources and it was hard for members to know where to find the nearest car. I created a prominent map on the home page, and customized it with the CSVT brand styles. I used Mapbox tilesets to layer progressive wayfinding information based on a viewer's zoom level.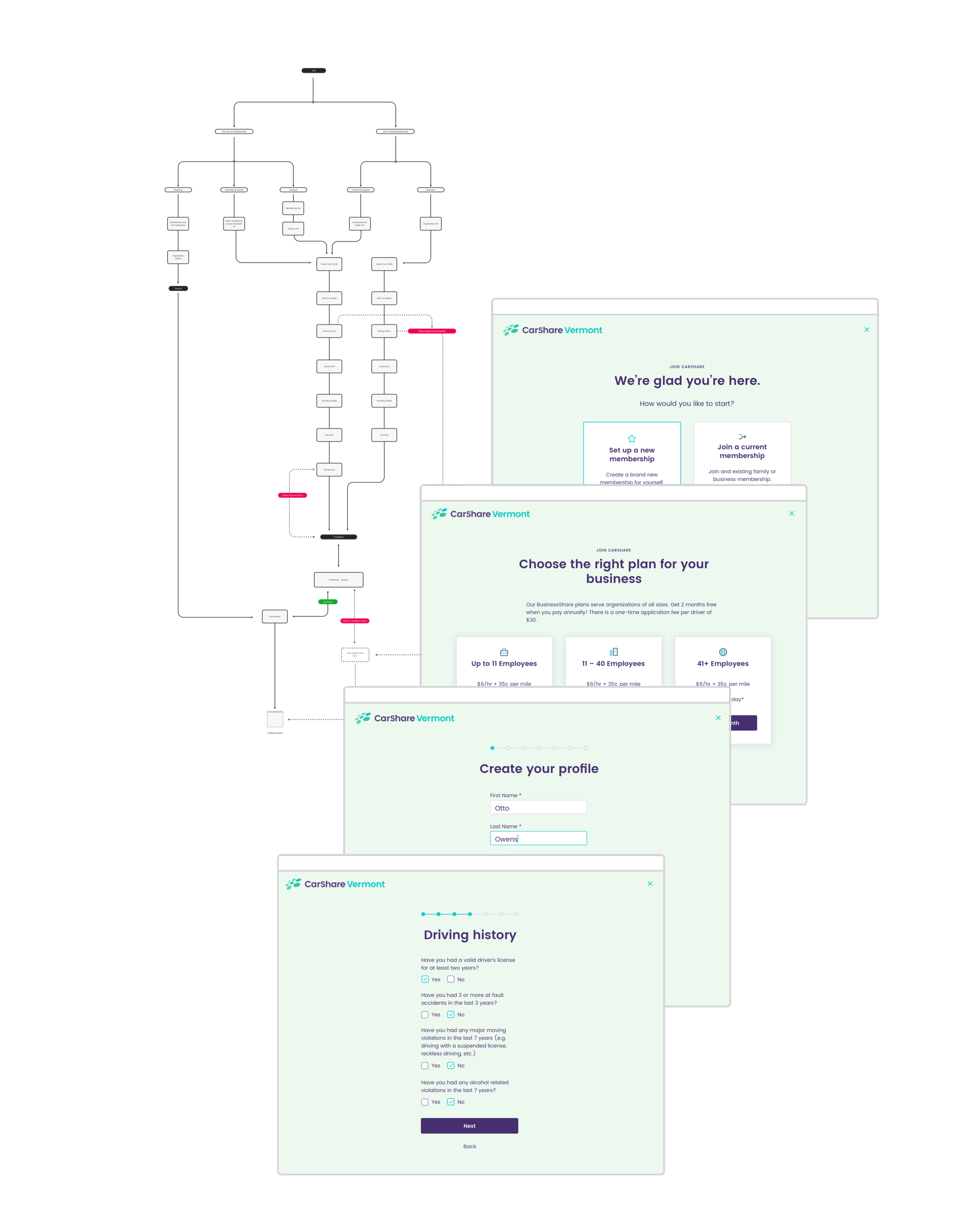 Step 5
An automatic sign-up flow


The final piece of this project was onboarding for new members. We distilled the all the necessary components of the sign up process and automated a lot of manual tasks.

Now everyone can sign up easily, with automated emails, real-time driving history checks, and fast payments with Stripe.

In addition to using Freehand and Prototype for collaboration, I kept a flowchart up to date for dev using the Sketch Flowkit library.
Step 5
A simple stack

The site is built on Contentful, Gatsby, and Netlify. Using a headless CMS makes it super-fast and easy for the CarShare Vermont team to manage —
h/t
to Jackson Latka and Michael Hellein on technical strategy and implementation.
---
Copy & Strategy
Tad Cooke
Product Strategy
Jackson Latka
Illustration
Viscaya Wagner
Development
Michael Hellein