My Role
Product Design
Illustration

Product Lead
Jackson Latka
Design Lead
Jory Raphael
UX Research
Katie McCurdy

I joined the Notabli product team at really exciting time. The well-loved iOS app had been around for a few years, and the team was focusing on building a web app that would make space for more features (like easier viewing, public share links, and quicker permission management).
Notabli for web, designed by Jory Raphael


Notabli for Android


While the web app took shape, we already had our eyes on the next big release — an Android app.

This turned into my first big project. Using the iOS experience as a foundation, and adding some new features from the web app, I designed and ushered the Android app into being 🐣.



At the time, Google had just launched Material design guidelines, and we were excited to see these new standards emerging in the Android space. We created Notabli for Android using Material design principles, which gave it a very different 'feel' compared to iOS.
In hindsight, standards for multi-platform apps have evolved. If I were to do it over, I would have rearranged priorities — (1) envision a look for the Notabli product, independent of platform, then (2) make design changes and considerations based on a platform's functionality (e.g., the system 'back' button available in Android).



iOS — the Reboot


Universal apps were introduced in iOS and it came time revisit the iOS side of things (so folks could enjoy Notabli on any size device — like iPad and the new iPhone Plus).

I took the lead on designing Notabli 3, using improvements and discoveries we made on Android and blending them back into iOS.

Better commenting, emoji support (this was just rolling out on Instagram — oh the times!), a photo grid, share extensions, and a new onboarding experience are just a few examples of the improvements in Notabli 3.
I wrote more about the release here.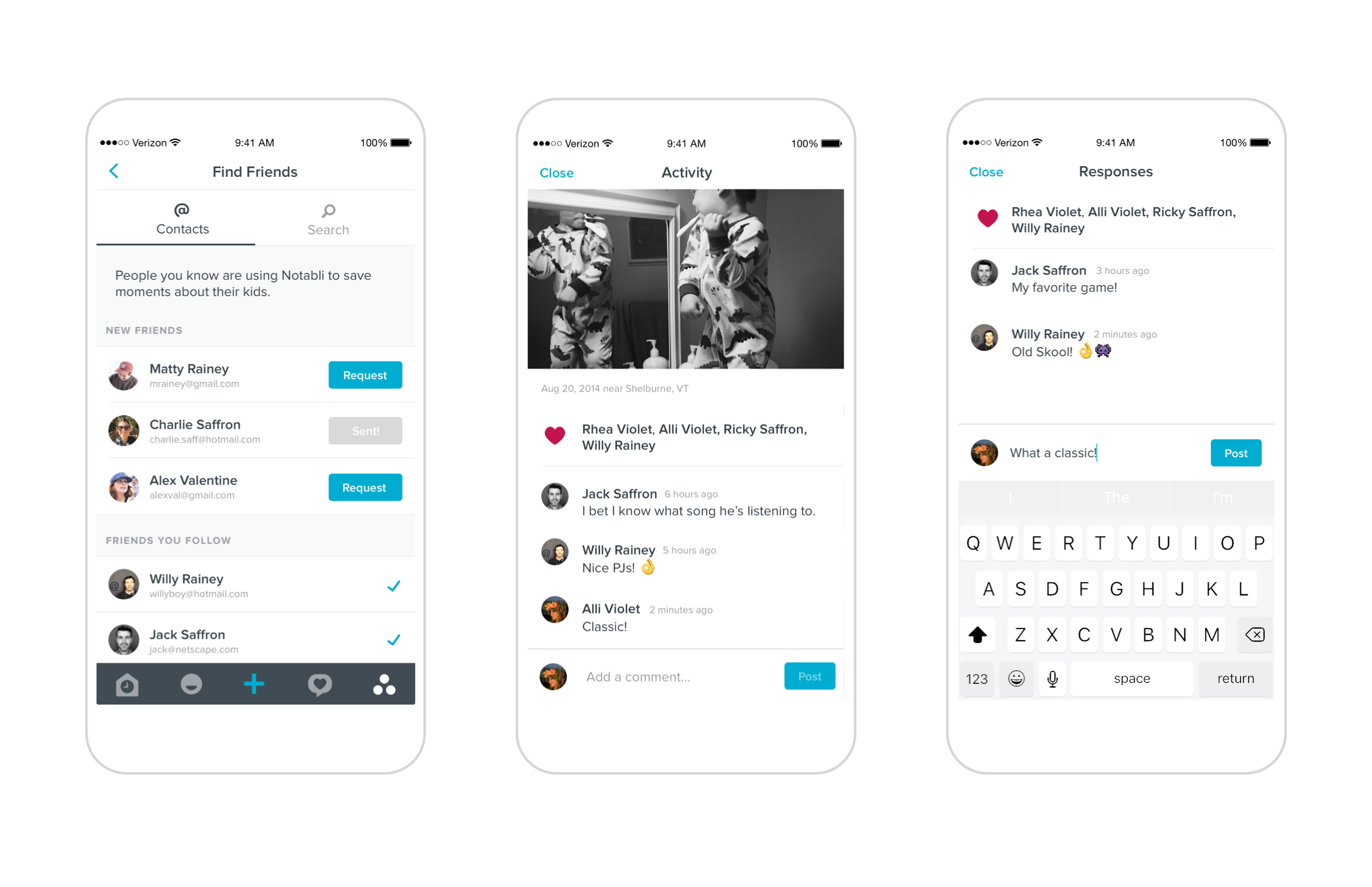 Autoplaying video and swipe-to-dismiss had also just begun to emerge. We implemented interactions like this and they were especially helpful on larger screens.

These final views are all quite polished, but as always, there were lots and lots and lots of diagrams and whiteboarding sesssions where we did our workshopping — especially mapping out sign up, auth, and more complex flows like invitations and permissions.

I had a huge drawer of looseleaf I sometimes wish I'd documented.
As part of a product team, you touch on so many different aspects of an experience. I also helped create the marketing site, illustrated, wrote copy, created email campaigns, and kept projects running smoothly. What fun!


P.S.
Notabli is community-supported
♥︎
To learn more, visit
notabli.com︎
---
Product Lead
Jackson Latka
Design Lead

Jory Raphael
UX Research
Katie McCurdy